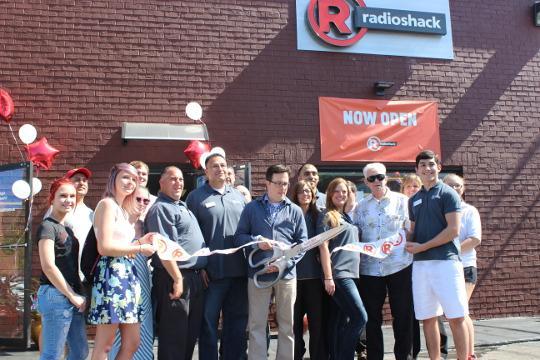 SALINE — Local business owner Ray Gammo is standing up for the more than 900 independent RadioShack dealers across the U.S. to protect their assets in the company's Chapter 11 bankruptcy proceedings.
Gammo is one of 60 franchisees currently involved in an ad hoc committee to represent local interests in the bankruptcy, which the company announced on Feb. 5.
Franchise-owned stores, like Gammo's recently opened store on the west side of Saline, did not have representation in the bankruptcy before the ad hoc committee was formed. As part of the bankruptcy filing, RadioShack will close nearly 4,000 company-owned stores, but approximately 20 percent of stores in America are owned and operated by small business owners.
"Before this, there was absolutely no representation for the 909 stores that are out there," said Gammo, who has owned Alpha Wireless at 733 W. Michigan Ave., for over 18 years. "All of these guys have one to two stores, some of these guys have up to the 10 stores…so they left us completely off the bidding table. What they tried to do is take a bunch of us 'Average Joes' and said we're going to wipe you off the map.
"They basically said we're going to sell your contract to this guy or to the highest bidder – how is that fair to anybody?"
The Saline RadioShack will stay open and Gammo doesn't foresee any interruptions to the business while the bankruptcy is litigated. Alghough some financial aspects have already been affected such as the store's line of credit which franchise owners use to buy new products.
"As of recentlty, (the bankruptcy court) completely stopped all of the credit lines and are making us pre-pay into it," said Gammo. "Normally, you buy (products) against your credit lines; so you may purchase phones and then activate those phones and are then paid a commission…but now we are on payment terms only. I'm not a lawyer but that may be a huge violation of bankruptcy scenario."
The bankruptcy may also affect store-owned customer information.
"We have huge consumer databases that may be affected by this. There is a lot at stake here…you can't just do it and have a firesale on us; it's great that you want to have a firesale but it just doesn't make sense," said Gammo.
The Saline RadioShack was opened in May 2014 in the same building as Alpha Wireless located in the Riverside Shopping Center. Gammo and his family also own the Village Party Store and several other properties around Washtenaw County